We're Dealing You In
From the minds of the world-famous Crime Junkie Podcast, host Ashley Flowers takes true-crime listeners through a deck of playing cards that is unlike any other.
Solving the toughest criminal investigations sometimes requires a game of risk. Each week, host Ashley Flowers tells you the story of a person whose murder or mysterious disappearance has gone unsolved for years in audiochuck's new weekly true-crime podcast called, The Deck. These cases are the coldest of cases. So cold that law enforcement agencies have put victim's faces on decks of playing cards and passed them out in jails and prisons hoping they might make their way into the hands of someone with answers. They're known as cold case playing card decks and for the first time ever, we're dealing YOU in.
Join us every Wednesday as we work with investigators and victims' family members to recount the details of these cases in hopes that justice may finally be served.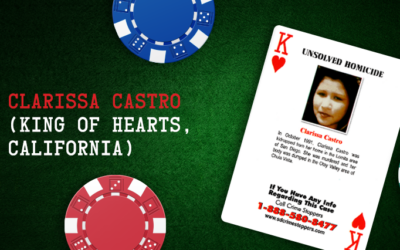 One fall day in 1991, 14-year-old Clarissa vanished into thin air after a night of hanging out with friends.
read more
audiochuck is an Indianapolis-based media company focused on bringing our fans edge-of-your-seat storytelling that speaks to the latest generation of podcast listeners. Since December 2017, we've been creating and producing compelling content that leaves you craving more.
We've produced multiple shows that have premiered at #1, racking up hundreds of millions of downloads a year. audiochuck is also passionate about using our platform to make a positive difference in people's lives by using our time, money, and resources to advocate for victims and families.